Volunteers are the core group-central to The Kalgidhar Trust and by corollary Akal Academy Baru Sahib.
If one were to look at the history of Kalgidhar Trust, one would find a countless band of volunteers who dedicated their time, talent and mind to shape what it is today.
In fact the soul and the spirit of Kalgidhar Trust was created by the visionary saint- Sant Attar Singh Ji Maharaj who defined our mission… "world peace through value based modern education". This mission took shape under the spiritual and temporal leadership of Sant Teja Singh Ji; who passed on the mission baton to Hon'ble Baba Iqbal Singh ji-our topmost lifetime volunteer and spiritual head.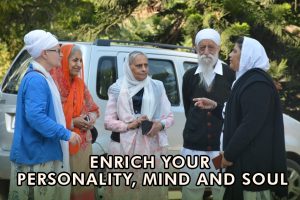 In the current era, whosoever chooses to volunteer for KT automatically inherits the glorious legacy of our founding saints and their divine blessings. Thereby, enriching their own personality, mind and soul.The driving force behind each of these saints has been the call of Divine- to rise above the mundane worldly concerns, go beyond the self and serve humanity at large(Sarbat da Bhala ਸਰਬਤ ਦਾ ਭਲਾ ).
One would choose to volunteer with our organization will find immeasurable sense of fulfillment, a wholeness in their personality- mind, body and soul. This is the objective and goal of AKAL CONNECT.
This is not a mere promise; it is happening to each dedicated volunteer- a life transforming experience wherein each individual can experience his own transformation… evolution to a higher level of spirituality. The only qualification for a "Would-be Volunteer" is his intense desire to render service- 'Sewa' through 'Akal Connect'.
Gurbani says:
"Sewa Karat Hoie Nihkami||
Tis kou Haut Parapat Swami(the Divine)||"
ਸੇਵਾ ਕਰਤ ਹੋਇ ਨਿ ਹਕਾਮੀ ||
ਤਿ ਸ ਕਉ ਹੋਤ ਪਰਾਪਤਿ ਸੁਆਮੀ ||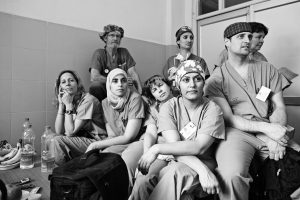 Meet our Volunteers
Our volunteers are crucial in helping us impacting changes. Below are some of our volunteers and the roles they play in the society.
Founder and Executive Chair- Think Equal.
Think Equal is a global initiative which calls for a system change in education, to end the discriminatory mindset and the cycle of violence across our world and ensure positive life outcomes for our children.
Together with world experts, Think Equal has designed a programme to teach social and emotional learning to early years (3-6-year old).
Think Equal collaborates with governments, policymakers and school networks to adopt, and ideally mandate, this programme as a new subject from the age of 3: the optimal window to modify attitudes, values and behaviours, based on evidence from neuroscientists.
Diane I. Meherbani Kaur Desrochers, Founder and president MScA, E500-RYT, RCYT (IKYTA, KRI &Yoga Alliance, IAYT) ROHP (IONC, BNMDP-NA/NMCC), PYT (KhalsaWayMC) Certified Kundalini yoga and Breath walk, Prenatal KhalsaWayMC and restorative yoga teacher and Registered Orthomolecular Nutrition Practitioner, CanFit Pro Certified Level 1 Urban Poling Nordic Walking Instructor.
Diane I. Meherbani Kaur Desrochers graduated from the University of Ottawa with a BA in Social Communications and from the University of Waterloo with a BA in Psychology. In 2000, she was awarded a Master's in the Applied Science of Nutrition from Edison Institute of Nutrition.
Living in the spirit of her name "Meherbani" meaning kindness, she breathes to serve students and others whether in classroom or institutional settings or in daily life, so they can all experience their birthright of Happiness and Health.
Dr. Gurpreet Singh Dhillon is the Farrington Professor of IT and Decision Sciences at the University of North Texas. Previously he has served as Professor and Head of Information Systems and Supply Chain Management at the University of North Carolina, Greensboro, as Director of the Online MBA, and as Area Coordinator for Computer and Information Systems Security at Virginia Commonwealth University.
Dr. Gurpreet graduated with a Ph.D. from the London School of Economics. He also completed his Master's in Statistical and Mathematical Sciences from the LSE. He also holds an MBA in Operations Management. In 2019 he received an Honorary Doctorate from Örebro University, Sweden, to advance knowledge of how organizations interact with information. Gurpreet is included in the Stanford University list of the top 2% of researchers in his discipline.
Dr. Juss Kaur Magon is an International Education Consultant, playing the role of Sikh Liaison (Office of Religious & Spiritual Life,McGill University) and Sikh Chaplain (Multi Faith and Spirituality Center, Concordia University).
Creating art is a form of meditation and spiritual dialogue for her. Science informs the artistic spirit and she likes to question, explore and employ it as a muse to inspire wonder, and to capture the complexities and mysteries of the invisible. Her purpose is to create reflective works of art that engage the souls of the viewers. The intention is to celebrate, to share the joy of this glorious adventure, to inspire and be inspired.
Volunteering Registration Form