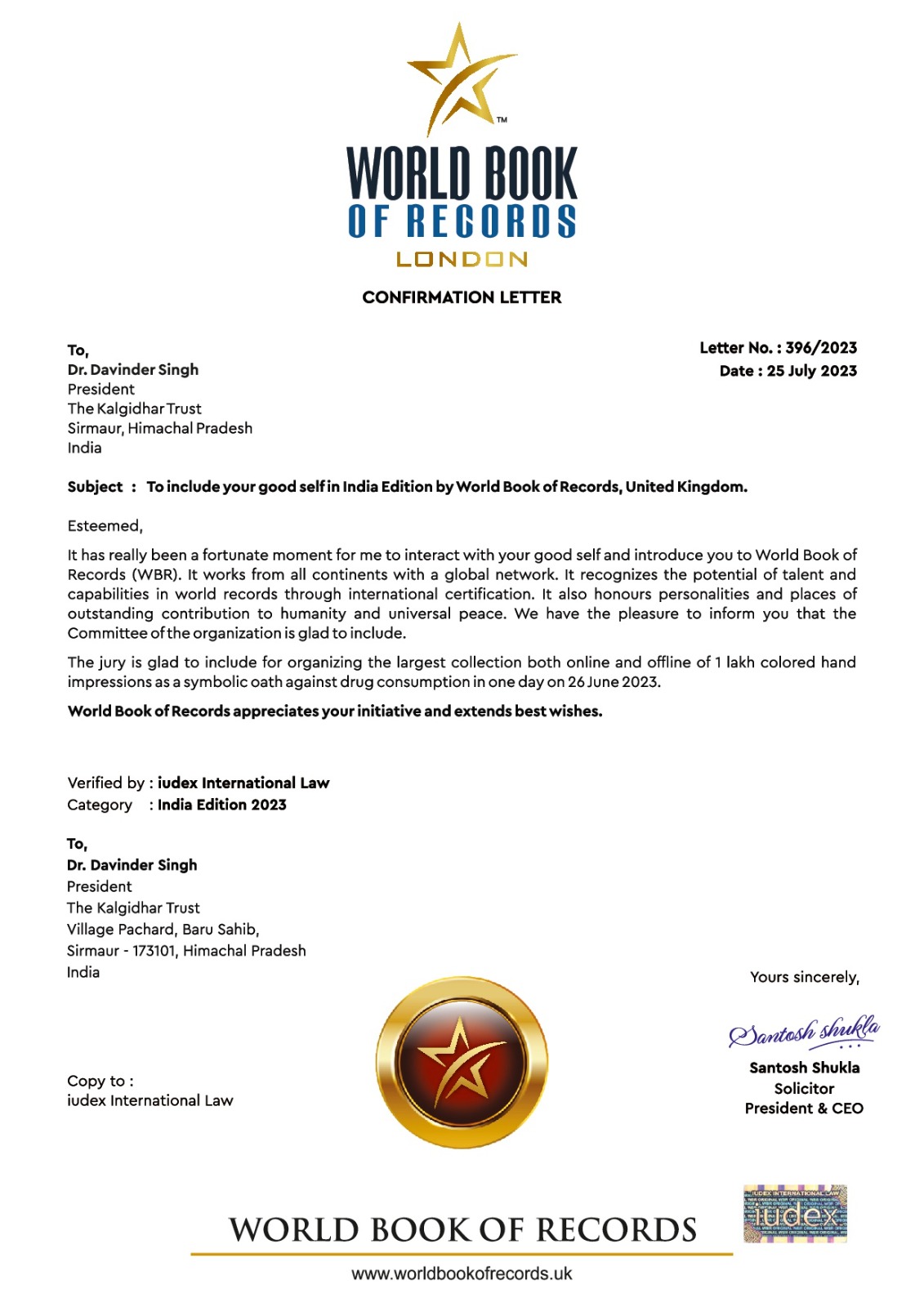 🌈📚Breaking Records and Spreading Awareness! 🌈📚
We are thrilled to announce that The Kalgidhar Trust – Akal Drug De-addiction and Rehabilitation Centre, Akal College of Nursing, Akal Centre for Public Health & Health Care Administration And The Akal Academy has achieved a remarkable feat by entering the World Book of Records! 🌟🎉
🏆 Largest Collection of 1 Lakh Colored Hand Impressions: A Symbolic Oath Against Drug Abuse 🏆
In the year 2023, we embarked on a mission to create an impactful statement against drug abuse, and YOU, our incredible community, made it happen! Together, we gathered a staggering collection of 1 Lakh colored hand impressions, both online and offline, symbolizing our united stand against the menace of drug abuse.
🙌🤝 This extraordinary achievement wouldn't have been possible without the unwavering support and enthusiasm of each one of you who contributed their handprint to this noble cause. Your participation has helped us send a powerful message of unity, hope, and determination to combat drug abuse in our society.
🌟 The Power of Awareness and Unity:
Through this unique endeavor, we aimed to raise awareness about the adverse effects of drug abuse and advocate for a drug-free world. Each handprint represents a pledge to stay away from drugs and encourage others to do the same. Together, we are fostering a community that embraces sobriety, health, and well-being.
💙 A Big Thank You!
We extend our deepest appreciation to everyone who played a part in making this record-breaking initiative a resounding success. Your dedication and support have proven that when we come together with a common purpose, we can achieve remarkable things!
Let's continue striving for a brighter, healthier, and drug-free future for generations to come! 🚀